16 February 2023, in this episode of Life Science Success, Don Davis chats with Ralph Hess. Ralph is the Executive Vice President at Navigator Business Solutions.

What Life Science Organizations are looking for when considering a Digital Transformation from a simple set of systems, outdated systems, or no system to an integrated Enterprise Resource Planning (ERP) software that supports the whole organization from Financials through cGMP manufacturing and FDA Validation.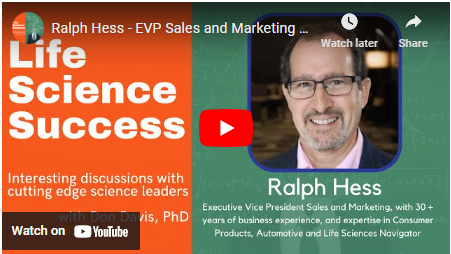 The host: Donald L. Davis PhD, MBA
5280 Life Science Consultinig, LLC offers Fractional Chief Operations Officer (COO) services for businesses in the Life Science industry. We work with business leaders to help them develop a strategy and roadmap for the future, as well as optimize their operations for growth.
Stay Compliant, Safe, & Ahead of the Curve in the Life Science Industry
Life science companies come to Navigator when they find their ability to grow and/or adapt is being limited by their current business processes and systems. Navigator helps accelerate operational performance through digital transformation in life sciences software, so our clients can drive innovation, grow their business, become a leader in the industry, and increase market share.