CAS and Torx Software collaborate to streamline and accelerate small molecule discovery and design
Cambridge, UK – 02 February 2023 – Torx® Software Limited, provider of the ground-breaking Torx technology platform for managing small molecule discovery chemistry, today ­announced a collaboration with CAS, a division of the American Chemical Society, to connect CAS SciFindern users seamlessly through the Torxplatform to streamline workflows for discovery chemistry. The integration expands on the intrinsic design and analysis capabilities within Torx to speed time to relevant, actionable insights and optimize decision-making.
Medicinal and synthetic chemists and discovery program managers on small molecule chemistry teams must align many aspects of the molecule design process. Design, review, prioritization, resource allocation and scheduling are all separate parts of a complex process that can lead to productivity bottlenecks and slow the whole team down. Torx removes these bottlenecks by reimagining the end-to-end process to provide a more team-friendly, productivity-centric approach.
Medicinalchemists who have a subscription can now connect seamlessly to CAS SciFindern from within the Torx platform to perform literature and patent reviews to uncover key insights, and mine chemical substances, reagents, and reaction schemes to devise synthetic plans using the CAS SciFindern advanced search, visualization, filtering and analysis capabilities. Users can add the dedicated CAS SciFindern plugin window to their customizable, information-rich Torx design environment to search and display the results in CAS SciFindern, alongside real-time critical physico-chemical, near-neighbor, and 3D-pose information about their small molecules in Torx.
"This is an invaluable collaboration that demonstrates both the power of CAS SciFindern and the flexibility of Torx in supporting our users' workflow," said Dr. Tim Cheeseright, CEO, Torx Software. "This integration enables users to makeinformed decisions quickly and accelerate towards their next clinical candidate, through the ability to search the extensive information within CAS SciFindern with a simple click of a button in Torx."
"Enabling this seamless connection from Torx to CAS SciFindern provides our mutual customers with efficient access to authoritative scientific information needed to accelerate discoveries," said Andrea Jacobs, Senior Product Manager for Partnerships, CAS. "Our collaboration underscores the commitments of our organizations to continuously improve productivity and workflow capabilities that empower our users' success."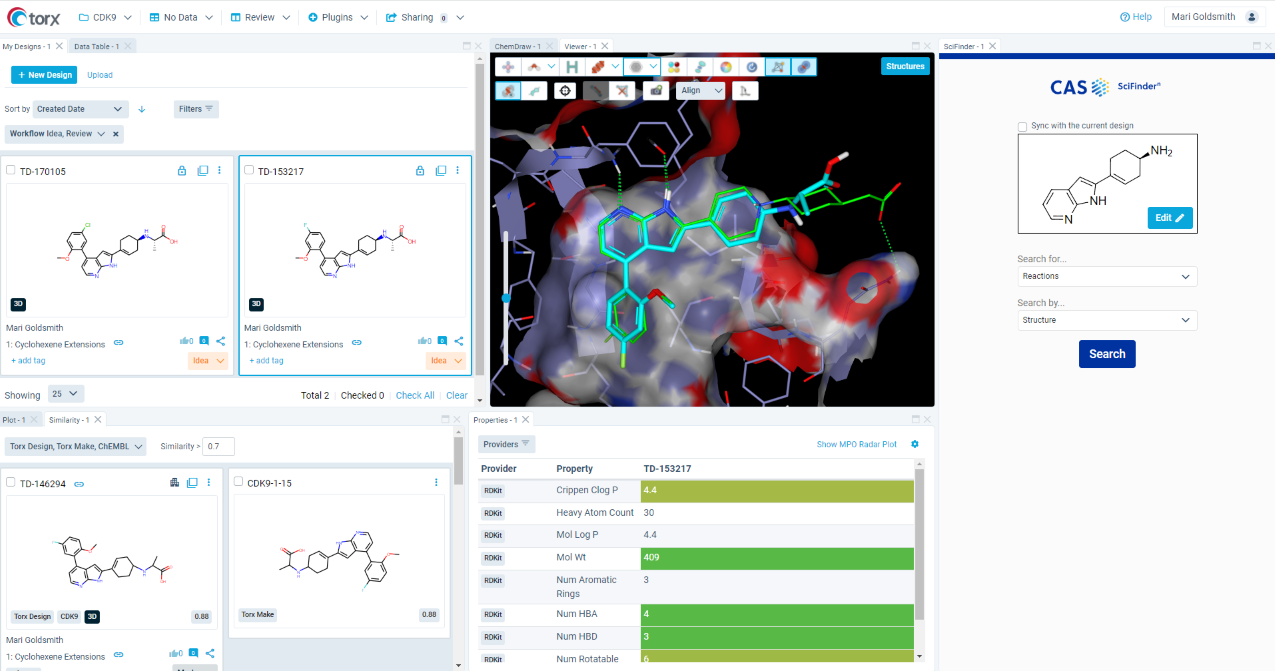 Figure: Medicinal chemists can access the full capabilities of SciFindern via a dedicated plugin in the Torx Design GUI
END
Media Contact
Sue Peffer, Head of Marketing, news@torx-software.com
About Torx Software
Torx Software is a collaboration between Cresset and Elixir Software. The combination of their technologies forms Torx™, a ground-breaking platform that drives productivity in small molecule discovery chemistry.Torx's visual, chemistry aware web-based platform inspires teams to work together and deliver faster. Torx delivers a complete discovery cycle solution, enabling medicinal/synthetic chemists and research teams to coordinate efforts across molecule design, compound synthesis, testing and data analysis. To learn more go to www.torx-software.com
About CAS
CAS is a leader in scientific information solutions, partnering with innovators around the world to accelerate scientific breakthroughs. CAS employs over 1,400 experts who curate, connect, and analyse scientific knowledge to reveal unseen connections. For over 100 years, scientists, patent professionals, and business leaders have relied on CAS solutions and expertise to provide the hindsight, insight, and foresight they need so they can build upon the learnings of the past to discover a better future. CAS is a division of the American Chemical Society. Connect with us at cas.org.