Cambridge, UK – 21 October 2021 – Torx Software Limited, provider of technology for managing small molecule discovery chemistry, announces the release of Torx Test™ and Torx Analyze™ to complete the Torx platform. Torx is a single web-based solution that enables drug discovery teams to work together, share knowledge, manage resources and track progress throughout the Design-Make-Test-Analyze (DMTA) workflow.
Torx Test connects chemists and assay scientists to enable seamless scheduling, management and results delivery for biological, physico-chemical, ADMET and other assays. It removes the administrative burden from the testing process by providing a platform to submit requests upon compound registration as well as follow-up requests from Torx Make™, and monitor progress in real time.
Torx Analyze combines 2D and 3D analysis of molecule data loaded from corporate databases with the extensive information sharing and molecule design capabilities of Torx Design™. It enables research chemists to understand their data, evaluate their hypothesis and inspire the next round of design.
"We're delighted to complete the Torx platform with this release," said Dr Tim Cheeseright, CEO, Torx Software, "The four dedicated modules work in synergy to deliver a complete solution for small molecule discovery teams. By integrating Torx into their drug discovery programs, research managers and scientists can better plan, manage and track their DMTA workflows across all R&D projects."
"Torx connects all team members and external partners in a single, chemistry aware web-based platform," said Dr Paul Faulder, Co-Chairman, Torx Software. "We're looking forward to supporting more teams working in pharma and biotech industries to facilitate insightful decision making and increase productivity so they can shorten the time taken to get their drugs to market."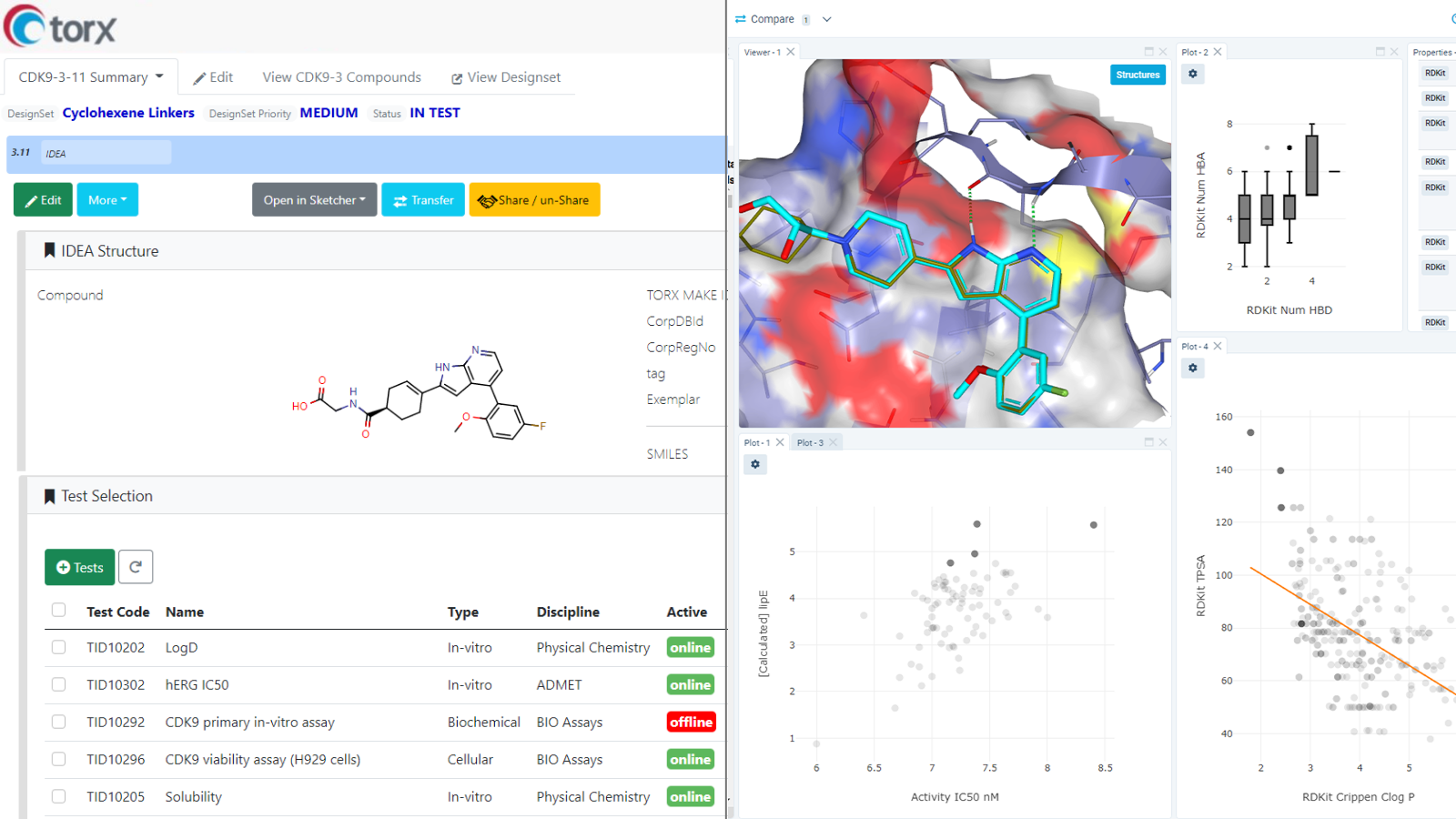 Research chemists can automatically submit newly registered compounds to a user-defined set of biological and physico-chemical assays in Torx Test (left) and combine data analysis from these studies with existing project information to inspire the next round of design in Torx Analyze (right).
END
Contact
Sue Peffer, Head of Marketing, news@torx-software.com
About Torx Software www.torx-software.com
Torx Software is a collaboration between Cresset and Elixir Software. The combination of their technologies forms Torx, a ground-breaking platform for small molecule discovery chemistry.
Follow Torx Software on LinkedIn and Twitter.