As part of an overall effort to streamline your development programs and deliver faster results (like our current 9-week reporting timeline), Charles River is implementing state-of-the-art technologies that introduce greater efficiencies at every stage of the process. The latest advance at Charles River is a fully GLP compliant digital pathology workflow that supports pathology peer review globally across our sites.
Our team has just completed GLP validation of our fleet of digital pathology scanners and our state-of-the-art software, Patholytix Preclinical from Deciphex. Our company-wide digital pathology capacity and capabilities within global digital pathology services will provide clients with a fast, flexible, digital peer review solution for GLP compliant studies.
GET STARTED WITH OUR DIGITAL PATHOLOGY EXPERTS
"As part of CRL Pathology's continuing commitment to enable our clients to reach their development goals, we are excited to deliver a truly innovative GLP validated Digital Pathology Peer Review solution. By partnering closely with our colleagues at Deciphex, we have a transformational product, Patholytix Preclinical, that will drive greater efficiency and flexibility for study delivery from all of our CRL Digital Pathology sites."

– Kevin McDorman, Corporate Vice President of Pathology
Confidence in Quality and Compliance
In the digital pathology workflow validation for the Patholytix Preclinical platform, our team confirmed the system's functionality, ensuring the integrity, security and full chain of custody of digital images and associated metadata. Our comprehensive Computer System Validation cycle meets regulatory expectations and will direct secure uploads to our system and downloads to Sponsor sites in support of digital peer review. The result? Rapid transfer of whole slide images for digital peer review, which is a win for pathologists across the globe, at a time when there is greater need for remote evaluations and collaboration.
---
Digital Peer Review Comes into its Own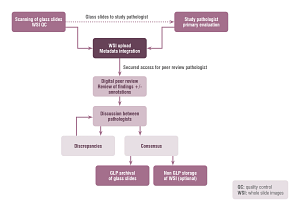 Thanks to technology and a new generation of equipment, it is now possible for Sponsor pathologists to do their peer review in record time. This is both beneficial to the client and the CRO. Learn More
---
When you consider the impact of traveling to a peer review site or the time and expense to ship slides, especially across international borders, a digital peer review can achieve significant time and cost savings in an overall development program. Instant, secure transfer allows Sponsors to access slides for review in a robust system that helps them to meet their deadlines.
Charles River's successful validation of the Patholytix Platform is one critical component of a global digital pathology initiative that continues to implement the best technologies to streamline workflow and enhance the experience of working with our teams.