Increased demands in pharmaceutical R&D have led to an increase in outsourcing
The journey of a new drug from hypothesis to market approval is becoming increasingly complex, time-intensive and expensive. A recent investigation estimated that the average R&D cost per product over the last decade was $1 billion1. Larger, established pharmaceutical companies with a long-term commitment to chosen therapeutic areas have been able to build the necessary infrastructure internally, but long and expensive development cycle times and risks of costly late-stage failures have left newer companies looking for alternative approaches to the traditional business model.
Strategic outsourcing of specific business areas is an attractive option for some. This enables streamlining of operations and significant reductions in overheads, such as personnel, rent and equipment. Indeed, the pharmaceutical industry has seen a rise in outsourcing as companies look to improve and accelerate their drug discovery workflows. This in turn has allowed CROs to expand their capabilities and develop innovative science to address niche problems. As a result, companies looking to outsource are often in the privileged position of being able to flexibly select the right solution for their particular needs at any moment in time.
A virtual business model can benefit early-stage drug discovery
Pharmaceutical outsourcing includes a diverse range of business models, from one-off functional collaborations to more complex, strategic partnerships. The virtual pharmaceutical company (VPC) model occupies the extreme end of the spectrum, consisting of a core team who oversee and coordinate all other activities that are outsourced to contract service providers2. This approach is particularly attractive to biotech companies focusing on early-stage drug discovery. Under pressure from investors, these companies are often looking for the quickest and most efficient path from hypothesis to proof-of-concept, maximizing research outputs whilst minimizing financial risks.
Whilst minimizing R&D costs may have been the original motivation behind outsourcing, replacing non-essential corporate infrastructure with short-term contracts grants flexibility to a company. VPCs can relocate resources quickly in response to project roadblocks, adapt to new therapeutic needs and scientific advances, and extend their reach into niche markets.
Immediate and secure information sharing with Torx™
Although a fully outsourced approach certainly has its advantages in drug discovery, it is not without its challenges. A VPC management team has the non-trivial task of coordinating a dynamic and complex network of partnerships, systems and information. Only by successfully managing multiple projects can teams reap the benefits of such a flexible working model.
Keeping an open communication channel with every partner is vital so that the core team stay updated on progress and keep operations running efficiently. Torx acts as a comprehensive information database, providing a top-level view across the entire drug discovery workflow. Users can see the progress of different candidates, whether undergoing synthesis in CRO lab #1 or analysis in CRO lab #2, in the same window. Delays to any area of the project are flagged immediately, allowing you to make informed resourcing decisions quickly.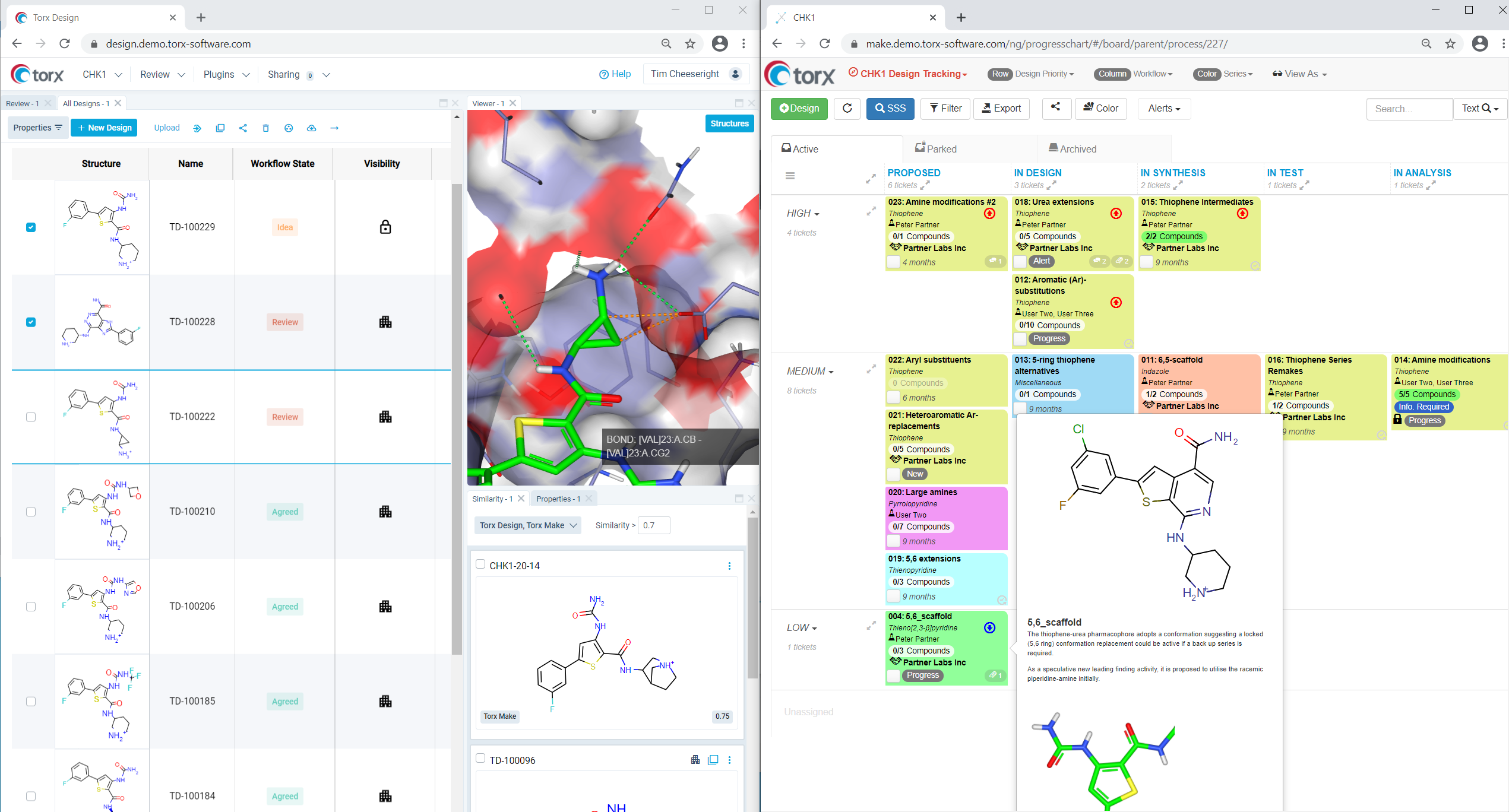 Figure 1: Torx provides a top-level view of progress across the entire drug discovery workflow, allowing any delays to be flagged immediately.
Torx enables data from disparate systems to be integrated seamlessly into a single repository, so that key information is accessible to any intended team members. You will no longer need to search through folders, documents, spreadsheets and presentations to find key data at critical moments.
Using a centralized location in this way also minimizes the risk of data loss during times of personnel change. As only a small number of people have a comprehensive knowledge across all operations, the departure of a core team member can delay productivity. However, Torx facilitates a smooth transition during these times and minimizes disruptions as new team members get up to speed.
Working with an external organization opens the risk of compromised security and confidentiality. This increases when managing multiple collaborations simultaneously. As a Torx user you have full control over permissions and access, allowing you to fully customize the level of information made visible to each partner.
A virtual business model can accelerate proof-of-concept for a new drug with minimal financial risk. Integrating Torx into your workflow can promote effective and secure communication with all partners in a project, allowing you to operate your VPC at maximum efficiency.
Integrate Torx into your operation
Contact us to request an evaluation of Torx or to learn how it can be integrated into your drug discovery workflow.
References
O. J. Wouters, M. McKee and J. Luyten, Estimated Research and Development Investment Needed to Bring a New Medicine to Market, 2009-2018, JAMA, vol. 323, no. 9, p. 844, 2020.
S. P. Forster, J. Stegmaier, R. Spycher and S. Seeger, "Virtual pharmaceutical companies: collaborating flexibly in pharmaceutical development, Drug Discovery Today, v. 19 (3), p. 348-355, 2014.